Due to the COVID-19 outbreak and for the health and safety of everyone we are postponing the Northland Horse Fair to a future date TBD.  We are currently exploring options for summer/early fall 2020. 
The Northland Horse Fair is the twin ports only horse expo event with guest speakers, vendors, demonstrations and of course horses!  Hosted by Beyond the Barn, the next Northland Horse Fair will be held in the Miller Hill Mall in Duluth, MN.  
Our goal for the Northland Horse Fair is to provide a venue for the local horse community to connect with area equine businesses and organizations as well as provide educational opportunities for multiple aspects of horse ownership, farm life, and the pet industry.    This year is our 15th Anniversary and features a venue change as well!   We are excited to partner with the Miller Hill Mall in Duluth to expand the Horse Fair's speaker and vendor offerings as well bring back favorite activities from past Horse Fairs like the 4H Used Tack Sale and pony meet and greet opportunities right inside the mall! 
Guest Speakers:
Dr. Laurelyn Keener DVM, North Wind Equine LLC:  Common Equine Behavior Problems that can Indicate Dental Issues
Michelle Jerry & Cash, Hearts & Hooves Horsemanship: Horse Liberty Demonstration

Kari Camara, Hearts & Hooves Horsemanship:  Youth Horsemanship

Duluth Area Horse Trail Alliance:  Advocating for Horse Trails   
Dr. Thomas Tweeten, ATH Science:  The Science of Grooming
Krishona Martinson, Ph.D., University of Minnesota:  Pasture Management.  A well-managed pasture can meet the nutrient requirements of most horses and promotes overall horse health by encouraging natural behaviors.  A healthy pasture is also more productive and can reduce environmental concerns such as erosion and runoff.  This presentation will focus on the five major components of pasture management (mowing, resting, dragging, fertilization, and weed control), and will include new research from the University of Minnesota.   
Krishona Martinson is the Equine Extension Specialist at the University of Minnesota and holds a BS, MS, and Ph.D. in Agronomy.  Her research specializes in optimizing equine forage utilization in both pasture and hay systems.  Along with her daughters, Dr. Martinson competes locally in WSCA speed events. 
Peter Sylvester:When does my Horse need Shoes, Hoof Care Q & A
Our full speaker schedule will be available soon so watch this page or follow us on Facebook for updates!
Are you interested in being a part of the Northland Horse Fair?  We are currently working on our guest speaker and demonstration schedule.   We have a planning group on Facebook and encourage all of those interested in providing a demo, speaking, being a vendor, or volunteering at the Horse Fair to join.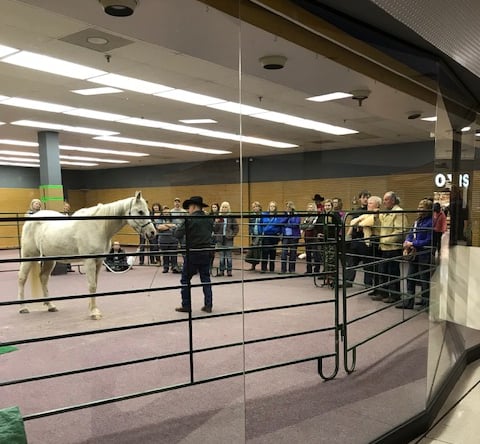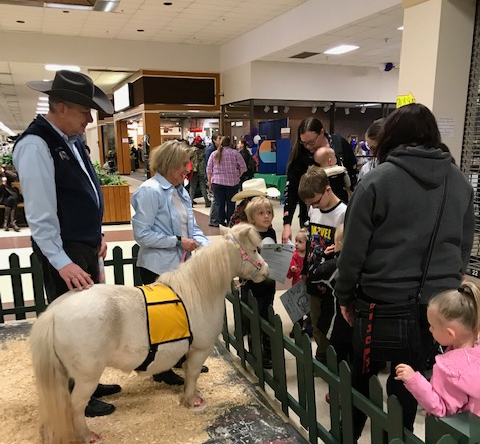 Vendors:
Current Registered Vendors for the 2020 Northland Horse Fair:
ATH Science, Equiscentials
BioOx Air & Water Solutions Inc.
South St. Louis County 4H
Duluth Area Horse Trail Alliance
North Woods Dressage Association
Last Resort Farm
Spotted Saddle Horse Breeders & Exhibitors Association
Arabian Horse Association of the Great North
Prospect Farms
The Great Northern Classic Rodeo
We are currently accepting vendor applications for the 15th annual Northland Horse Fair! With your continued support this event gets bigger and better every year!  Our goal for this event is to provide the local horse community with more resources, educational opportunities, and a platform for local horse groups, organizations, and shows to showcase what their club is about.  This event is offered free to the public, and with our new venue of the Miller Hill Mall in Duluth, MN, has excellent traffic with high visibility for all vendors.
Vendor registration due date has been pushed back to accommodate the postponement of the Northland Horse Fair due to Covid-19.
Space fees are $65 for businesses and $45 for non-profit organizations.   Space area is one 8'x8' space within the Mill Hill Mall common area.   Vendors may purchase up to 3 additional spaces at a reduced rate if needed.    For complete details on if your business would be a good fit for our Horse Fair please see our vendor requirements. 
To register please fill out either our online registration for businesses or non-profit organizations
Or you can also print the PDF version: vendor application.
We will also need a Minnesota Certificate of Compliance from all vendors.
Be sure to follow the Northland Horse Fair on Facebook!