You can have many of the items purchased at Diamond Royal Tack or our retail store, Beyond the Barn, embroidered, including hay bags, grooming totes, apparel, polo wraps, saddle pads, and horse blankets! If you don't see what you're looking for, we can order blank apparel, bags, and more from our distributors!
We have over 12,000 stock images to choose from including many horse and western designs, but also other animals, symbols, sports, floral designs, and more.  We also offer digitizing services if you'd like your own logo or photo embroidered.
Monograms and lettering are great ways to personalize and identify your tack items at shows or the stable! Plus they make great gifts!
Custom embroidery is great for show awards! High point awards such as totes, bags, and blankets can be ordered individually too! We have a single head machine so we don't require minimum orders like big graphics companies do, plus we can do all your design in house so you don't have to go to several different places!

Bulk Ordering:
We have a commercial size embroidery machine but it is a single head. We can do multiple pieces for a club or organization but please allow extra time when placing your order.

Digitizing:
We offer digitizing service for those who would like a custom logo done. In order to digitize your logo we need a high resolution image to work from. Charge is determined by size and complexity of the design and is a one time set-up fee. (Minimum charge is $50). We keep your logo on file to embroider future orders. Designs must be no more than 12 different colors total and are limited to 11"x 11" per single image. Digitized orders must be submitted at least 2 weeks prior to the event you need it for.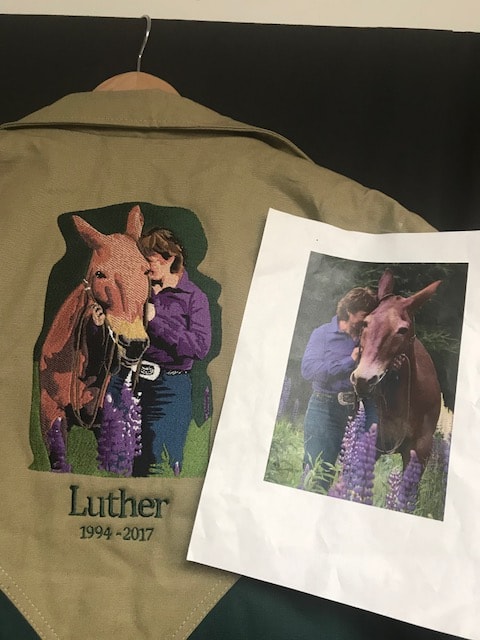 Pricing:
Pricing is determined by the stitch count of your design (chosen from our many lettering options and stock designs). We can convert your logo to an embroidery design (digitizing) at an additional fee.


Basic Pricing Chart: 
| | |
| --- | --- |
| Stitch Count | Price |
| 1-5,000 | $9.95 |
| 5,0001-10,000 | $14.95 |
| 10,001-15,000 | $19.95 |
| 15,001-20,000 | $29.95 |
| 20,001+ | Call for quote |
Stock designs are printed out for your viewing convenience at our store! We hope to add some of the images online eventually but we have over 12,000 different designs available!

Blank Apparel available for order! Bulk rates and fast shipping available.


Lettering:
Lettering prices are determined by stitch count and can be added to any stock design! The above chart is how our pricing is based. We do not charge a set-up charge if you use our stock lettering or images!


Outside Products:
We prefer to embroider on materials we stock or can order in case of problems with the embroidery equipment. Items we stock regularly we will replace at our expense in the event of malfunctions. We will embroider outside products but will not guarantee against defect as we cannot replace the item or assign it a value for compensation. It is at our discretion whether or not we will accept a particular item for embroidery service.
Patches and Patch Attaching:
We can now do patches!  For items that are too large or too small to hoop on our machine we now offer patch services.   Patches are solid background color twill and can be embroided with any design or wording of your choosing.   Embroidery charges are the same as any other product.   The only additional charge is the cost of the patch.  Patches are available up to 10" wide.  Additional order completion time may be required.   
Finished patches can be sewn on to a product of your choosing at additional charge.   Other attaching options are possible depending on your product needs.